Invisalign Clear Aligners
What is invisalign?
Invisalign are removable transparent aligners. They are alternative to fixed braces appliances and are non-visible. When you are eating and brushing, the trays is removed enabling comfort and easy of use and maintain. The non-invisible aligners snap over your teeth. At every intervals of around two weeks, a new set is changed and worn to gradually straighten teeth into correct positions.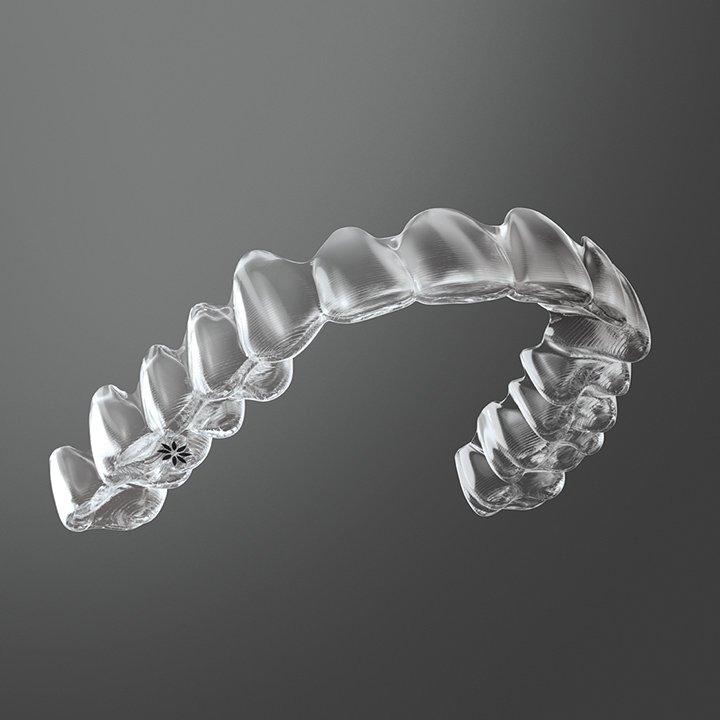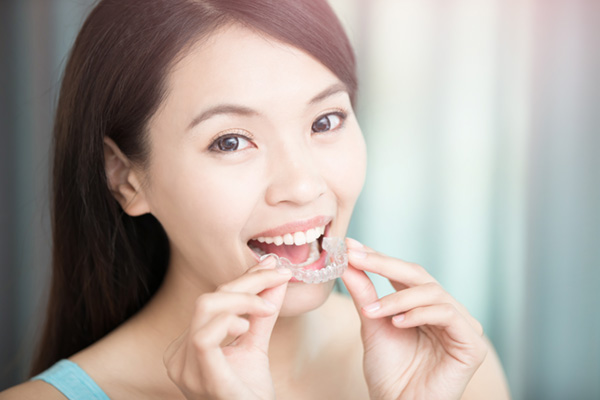 Invisalign clear aligners is suited for everyone as long as your adult teeth has fully grown.
It is particularly ideal for people who would like to seek orthodontic treatment but does not want others to know. Invisalign is commonly selcted by adults, professionals or people in the lime-light such as actor, actress, teachers or executives. Because invisalign is removable, it can be removed at anytime when eating and does not affect speaking.
Invisalign is significantly different to other orthodontic braces :
 You can remove it when brushing, cleaning, flossing and eating. This makes everyday life easier and reduces potential for tooth cavities.
Invisalign is non-visible and clear. Made or clear plastic, orthodontic treatment is nearly invisible.
It is comfortable compared to traditional fxied braces that can cause abrasions and cause discomfort whilst eating.
Your orthodontist starts off with a digital computer simulated treatment plan. You are able to visualize and see your teeth movements at each stage via the ClinCheck programme. A series of trays is worn that gradually shift your teeth into correct teeth positioning. Each tray is manufactured with small movements setting teeth slightly straighter than the previous tray. Your teeth typically moves up to 0.25 mm per tray. Approximately every two weeks, you change to wear a new set of tray to slowly move your teeth towards their ideal positions.
Non-visible so you are able to smile, laugh and speak confidently
Your monthly orthodontic visits may be less frequent as your dentist can provide you with aligners to fit on own returning at specific intervals
It is more comfortable to wear. The clear aligners fits snugly to the mouth and teeth, so it does not cut cheek or bulge out. 
Does not affect daily activities including the nature of your job
You do not need to worry about food waste or tooth decay as it is removable and easy to clean.
Seeking orthodontic treatment is an investment that provides positive benefits over the long-term on better chewing function and a confident appearance. Chiang Mai International Dental Center (CIDC) has mechanisms in place ready to serve you:
Our orthodontists are dental specialists who are qualified and certified in their areas of expertise. They undergo residency and additional years of training in the field of orthdontics.
Clean, safe and adheres to sterilization control standards for its instruments and equipment. Unlike other clinics, we do not permit our dentists to bring their own non-standard equipments/materials for treatment. All treatment equipment at CIDC are checked with internal control system that focuses on patient safety and cleanliness
Easy to access and convenient location.  CIDC dental clinic is located in chiang mai's main city center area on Nimman Road.
Mets international standards. Our chiang mai dental clinic follows ISO and JCI compliant standards.
Part of  well-established and award-winning dental clinic network with over 12 years of experience in dental services. This provides patients with security of trust and long-term service.
Clear aligners differs slightly to that of having fixed braces done. All our Invisalign cases are sent to the USA for treatment planning and invisalign clear aligners trays are manufacturered and made at their official dental labs. The Invisalign treatment steps are as follows :

1. Consultation with your orthodontists is done to check if invisalign is suited for you and discuss your options.

2. An panoramic and celphlometric x-ray and study model is taken for diagnoses.

3. Any pre-orthodontic treatment is cleared such as dental fillings, teeth cleaning or treatment of gum disease.

4. Your teeth is scanned with a digitalized iTero scanner. The scans are sent to USA via ClinCheck for a computer simulated treatment plan.

5. Your dentist confirms the returned treatment plan from invisalign (via ClinCheck). Any changes in treatment plan is adjusted at this stage.

 6. On confirmation of the ClinCheck treatment plan, invisalign fabricates the clear aligners overseas</p>

7. On delivery of trays, your dentists makes an appointment to fix the attachments onto tooth surfaces. Your dentist instructs you on how to wear the trays.

8. Monthly visits are made in checking the progress of your orthodontic treatment and for any adjustments.
9. On completion of treatment, your dentist removes the attachments. Post treatment x-rays are taken and a tooth impression is taken for retainers.
Invisalign Express : case with mild misalignment. Use up to 7 sets of trays
Invisalign Lite : case with minor misalignment. Use up to 14 sets of trays.
Invisalign Moderate: standard patient cases. Use up to 26 sets of trays.
Invisalign Comprehensive : complex cases. Not limited in the number sets of trays.