What is Veneer?
Your smile reflects through in both appearance, confidence and friendliness. Porcelain veneers are very thin laminates placed over teeth surfaces that can help to straighten mildly aligned teeth within days to week. If your teeth has dull colors, tooth is too short or too long, veneers can enhance your tooth shade, shape and enhance the look of your smile.
Laminates or dental veneers are normally thin porcelain pieces placed over your tooth surface similiar to having a new coating layer over. Veneers are normally done only for front teeth on the outer surface.
Artistic beauty differs from one person to another. Your cosmetic dentist discusses and designs the veneers together with you for the right color and shape to your needs. A wax up study model or Digital Smile Design (DSD) using photography, video and computer based technologies may be used during treatment planning of your smile makeover.
How does veneers dental specialist differ from general dentist?
Dentists that specialized in dental veneers are aesthetic prosthodontists who undergoes training and qualifications to gain the skill sets to not just analyze your individual smile but also examine in-line with functional bite, alignment and symmetry together with you before making veneers.
Chiang mai dental clinic consists of a team of well experienced team of aesthetic prosthodontists, many with more than 10 years experience having done hundreds of smile makeover veneers cases. CIDC has its own dedicated dental laborotories for its ceramic works that enables:
closer collaboration between aesthetic prosthodontists, you and lab technicians
faster teeth delivery and treatment timings
immediate chair-side shade selection and adjustments
quality controls on specific material, shape, shade of veneers, crowns, bridges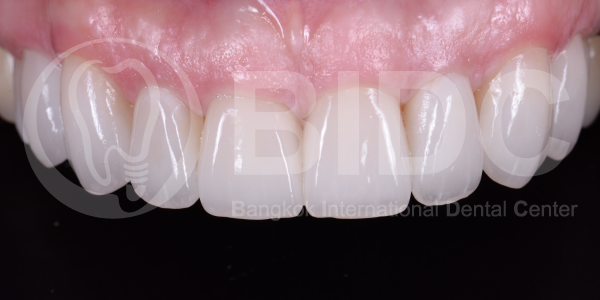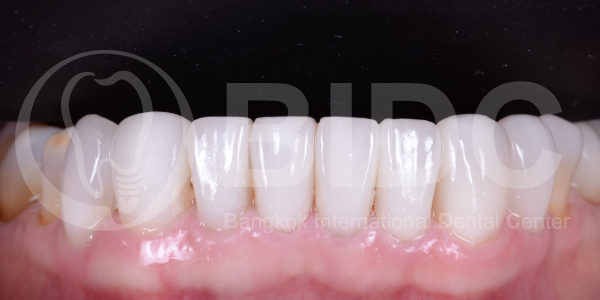 What types of teeth condition need dental veneers ?
Teeth that have been discolored due to root canal procedure or because of tetracyclin stain, fluorosis , and because of large filling are good candidates for dental veneer . Veneer are also good for the worn down teeth , chipped ,broken ,misaligned , irregularly shaped ,and are even and also those that have gaps between them.
Step 1: Consult your dentist. x-rays and photos are normaly taken during checkup and consultation to analyze your smile and set up individualized treatment plan.
Step 2: Design a digital veneer. After treatment planning, your dentist may recommend having a wax up done. This is a model of expected post veneers treatment results. You are then able to see and determine if the wax up model matches your expected end result requirements before proceeding with actual veneers treatment.
Step 3 Dentists prepare the teeth surface. Upon confirrming your treatment plan and expected outcome. Your dentist prepares your actual teeth surfaces and takes a teeth impression. The impression is send the dental laboratory to produce and make the actual dental veneer. The tooth color shade (level of whiteness of the desired tooth, shape is followed as specific in wax up or at this stage with you. Whilst waiting for the dental veneers to be fabricated, your dentist places temporary composite veneer after tooth preparation. 
Step 4 Fitting of veneers. After the dental veneers labworks are delivered and matches your requirements, your dentist places the porcelain veneers over teeth surfaces. Your dentist then advise how to properly maintain and care for your new veneers.
Step 5 Re-check and adjustments of veneer. A re-check visits is recommended to ensure that your new veneers function an feel comfort. If there are any high spots, this may be adjusted by your dentist. 
Aside from the fact that they give you the look of naturalteeth , they are also stain resistant.
With porcelain veneer , you may choose color of the teeth .Thiscanmaketheteethappearwhiter .
What's great with veneers is that they can change the color and shape of the teeth without too much
reshaping that is required with crown.
Veneer are irreversible and they cannot be repaired once by crack or chip off.Your teeth may also be sensitive to hot or cold drink and food because of enamel removed. They can also be expensive.
Hence it is advisable that you may try teeth whitening first, especially in case you don't have misalign teeth or large filling before, etc. It is not advisable the you chew on hard objects. Veneers are also not good for those that have poor oral hygiene, weakened teeth, and those that don't have sufficient amount of tooth enamel. Those people who are found of grinding or clenching their teeth are also not meant to have veneers since these activities can crack or chip off veneers.

BACK TO TOP