Dental Crowns and Bridges
What is Crown?
Dental crowns are sometimes called dental caps. Crowns fits over and encases the entire tooth above the gum line. Normally used to restore damaged teeth,  change the shape and size of your teeth or strengthend a weakend tooth.
What is Bridge?
Dental bridges consists of multiple units of crowns joined together to replace missing gaps between adjacent supporting teeth.
Your prosthodontists evaluates the color and shape of your tooth crowns and bridges based on your needs. 
How does prosthodontists differ from general dentists?
Prosthodontists and restorative are dentists hat specialize on dental crown, bridge and denture restorations. They undergo additional qualifications on replacing teeth and restoring your oral health and function throughout your entire mouth.  Dental crowns and bridges typcially requires 2-3 visits with your prosthodntist. It takes around 5  to 14 days for treatment completion varying with number of crowns or bridge required.
Our dental clinic in chiang mai comprises of well experienced team of prosthodontists with over 10 years experience. Many of whom treats hundreds of dental crowns cases. CIDC has its own dedicated dental laborotories for its ceramic works. This allows:
faster teeth delivery and treatment timings
better communication between dentist, lab technician and you on requirements
you are able to select the shade and have any required adjustments made more quickly
more asethetic quality teeth works can be delivered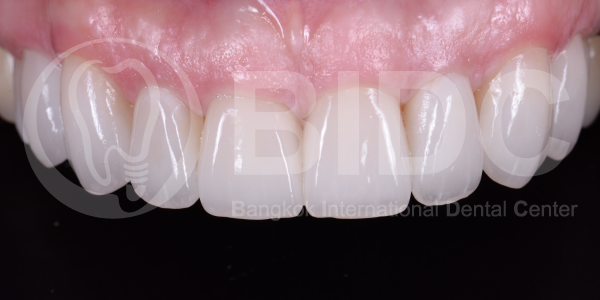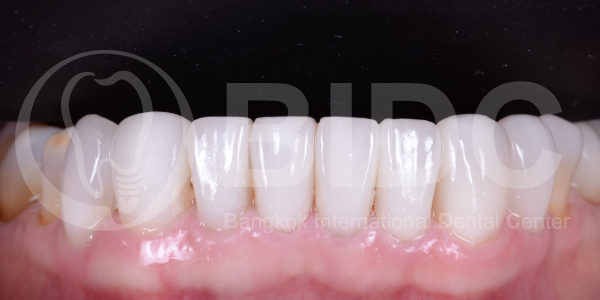 Step 1: Consult your dentist. x-rays and photos are normaly taken during checkup and consultation to analyze your smile and set up individualized treatment plan.
Step 2: Crowns planning.  After treatment planning, your dentist may recommend having a wax up to  be done especially if there are multiple crowns or full mouth crowns opted. The study model provides a visual expected post treatment results to you to confirm actual crowns treatment.
Step 3 Dentists prepare the teeth surface. Your dentist prepares your actual teeth surfaces for the actual crowns and takes a teeth impression. The impression is sent the dental laboratory. Whilst waiting for the dental crowns, your dentist places temporary composite crowns. 
Step 4 Fitting of crowns. After the delivery of dental crowns, your dentist checks this with before permanently adhering the crowns over teeth surfaces. Post care instructions are given to properly maintain and care for your new crowns.
Step 5 Re-check and adjustments.  Re-check and adjustment is recommended to ensure that your new crown works and feels comfortable. 

BACK TO TOP