Replace Missing Teeth with Dental Implants
There are several treatment options to replace missing teeth – dentures, dental bridges and dental implants. Dental implants is an ideal and long-term replacement solution for lost teeth:
Feels and acts like natural teeth amongst teeth replacement solutions. Dental implants provide for a solid attaachment into and with your jaw bone. With a crown over the implant posts, it is visually like a natural tooth and you can smile, chew and speak without hesitation.
Implants can potentatially prevent bone loss. If a lost tooth is not replaced, the living tissue has no continuous stimulation and starts to resorb. As dental implants is fused to the your jaw bone, this "exercises" bone preventing bone loss. Dentures and bridges does not offer this benefit
A permanent solution. Dentures and bridges will require replacement over time. Dental implants lasts for a life-time with proper care
Does not tamper or affect adjacent teeth. With dental bridges, adjacent achor teeth is required to form dental bridges that can impact or weaken those teeth over the long-run. Similarly partial dentures relies on anchorage of natural teeth. Dental implants are do not require support or anchorage of existing teeth.
Ease of maintenance care. Brush and care for your dental implants similiar to looking after your natural teeth.
Components of Dental Implants
A dental implants consist of 3 main component parts :
Implant posts : made from titanium, roxolid (ceramic and titanium) or all ceramic
Abutment : part that is screwed or retained into the implant posts and holds the prosthese
Prostheses : crowns, bridge or dentures that is fitted over the dental implant posts that can be made form ceramic or composite material
Titanium and roxolid adapts and assimilates well within the human tissue body. The implant posts is designed to be embeded into the jaw bone of missing tooth to act an as the new teeth roots. Crowns, bridges or dentures are then securely placed over the implant posts with abutments to enable effective chewing function simliar to natural teeth.
Full Mouth Missing Teeth
Implant dentures, implant full bridges, All-on-4 or zygoma implants
Full Jaw
Technological developments in dental implant equipment, materials and techniques had made dental implant treatment faster, safer and more comfortable. Digitalized technologies and machines at our Chiang Mai Dental Clinic include:
3D CT digital scan technology that provides for high resolution imaging on the height and weight jaw bone for more accurate diagnoses is used during dental implant treatments. CT scans enable your dentist to view bone density and volume for better diagnoses, treatment planing and potential precautions to take note of during actual treatment. CT Scans increases the patient safety on proper and correct implant surgical placement .
Computer Guided Implant Surgery is also used for our dental implant treatment. Computer software programme combines oral scans and images to help determine the position and direction of dental implants placements. The software highlights any margins of errors, helps your dentist to pre-plan dental implants placement.
Digital surgical templates guides increases accuracy of implant placements and in certain cases enables flapless surgical procedures for faster healing and less invasive treatments.
Active Surface Implants are dental implants that has a special chemical surface coating over its implant posts to encourage and for faster osseointegration between the implant posts and jaw bone. Straumann SLActive implants and Nobel Biocare NobelActive are special ranges of implant systems that offers increased success rates.
Digitalized Dental Lab at chiang mai dental clinic provides for customized abutments and zirconia crowns and bridges over implants. CAD/ CAM digital milling machines are used to mill the abutments enables individualized angulations of occlusion bite
Immediate Load Implants
Immediate load implants are done when temporary or permanent prostheses (crowns, bridge or dentures) are loaded over dental implant posts during the same trip when the implant posts are surgically embedded. Immediate load or immediate function implants
reduces wait time for final prostheses
teeth is replaced immediately during the same trip for better aesthetics and confidence
Immediate load implant is done only for selected cases that has no contra-indications. Temporary crowns, bridge or dentures will need to be changed and adjusted at a later stage for long term results.
Immediate Placement Implants
Immediate placement implants or same day implants are done whereby an implant posts is embedded during the same surgical visit when the natural tooth is extracted. Immediate placement implants :
reduces wait time for treatment as there is no need to wait for normal wound healing.
There are less procedure steps and potential pain whereby patient undergo teeth removal and implant post placement within one visit
helps reduce bone solubility as the dental implant posts replaces natural tooth root immediately
Reduces the chance of gum recession
Immediate placement implants is done only for selected cases. It is done for cases whereby the final dental implant positioning matches the original natural tooth positioning. There must not be any infection in the area for immediate placement implants. There must also be sufficient amounts of bone in the area for the dental implant to be held post teeth removal.
Conventional Implants
Conventional implants are the standard procedure used for the majority of dental implant treatments. The process starts with the removal of the original natural tooth. The gums and bone is left to heal for around 2 months or more. After healing, the dental implant posts is embedded to act as the new tooth roots. After implanting the post, the implant is left heal to allow the implant posts and jaw bone to become fully attached for about 3 to 6 months depending on the nature of the bone. The dentist then continues to build the prostheses (crown, bridge or dentures) over the implant posts.
Panoramic X-ray & CT Scan
1st stage implant post placement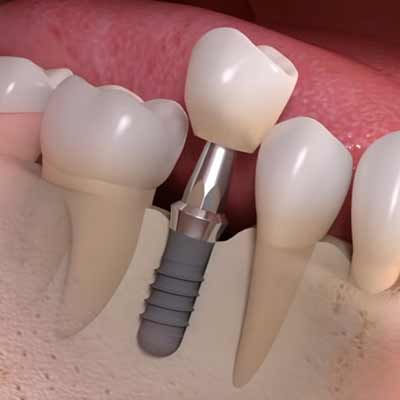 2nd stage prosthese over implant
There are some scenarios whereby dental implant treatments may be guarded or unsuitable :
individuals with insufficient jaw bones in the area to hold the dental implant posts may need bone grafting whereby the dentist will need to re-evaluate after bone graft procedure if you are a candidate for dental implants
individuals with severe or related medical health reasons (such as osteoporosis or undergoing cancer treatment), have certain congenital diseases that may cause oral and jawbone conditions may not be suitable for dental implant treatments
People who smoke heavily and does not give up smoking carries a much higher risk of dental implant treatment failure
Those who are still in their growth stage should wait for completed growth of the face and jaw prior to seeking of dental implant treatment